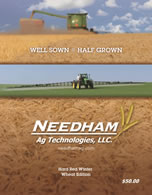 Well Sown = Half Grown was primarily written to help Hard-Red Winter Wheat (HRWW) producers across the lower rainfall regions of TX, OK, KS, NE and CO. Many of the management strategies discussed will still apply to other low rainfall wheat production areas around the world, especially regions which utilize no-till, to help growers increase their yields and profits.
This professionally published glossy color guide includes 144 pages, containing 375 photographs, tables and graphs. This practical publication is written by Phil Needham and it builds on our previous 84 page HRWW guide by adding significantly more information on current varieties, updated fertilizer strategies and revised chemical programs. It also contains information and recommendations on soil quality, soil health, new seeding equipment and residue management systems available across the Central Plains and other areas.
The title "Well Sown = Half Grown" is very important because some HRWW producers still fall over at the starting gate by failing to create the uniformity of plant emergence, or the standards of early plant health required to create the potential for high yields. Many of these important steps don't cost much money (if any) to implement and while were always very cautious about input costs in a low rainfall region, we offer many research backed management strategies to help make better use of precious moisture.
This practical publication is written to help growers, dealers and agronomists create the potential for high yields from the very start. It begins with residue management of the previous crop, fertility recommendations and burn-down herbicide strategies, then follows up with seeding strategies, seeding rates, planting dates and drill calibration recommendations. While it does focus closely on no-till practices, it also has information on tillage systems. The guide continues by providing management strategies through the fall, such as field scouting, plant stand assessments, fall weed control and insect management strategies. Spring nitrogen rates, products and timings are discussed in detail next, followed by growth regulators, disease and insect identification and control.
Well Sown = Half Grown is available from Needham Ag Technologies, LLC for $50.00 plus shipping. Please call 270-785-0999 to order.