New 18" Disc Blades for John Deere Single Disc Drills And Air-Seeders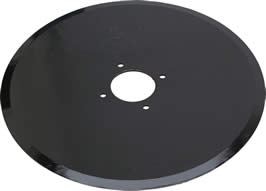 Significantly sharper than standard disc blades.
Specifically engineered to cut through tough, heavy residue.
Manufactured with time-tested Ingersoll proprietary Boron steel.
Ingersoll blades resist chipping and cracking in rocky conditions.
Penetration in hard, dry soil conditions is unparalleled.
Install on John Deere 750, 752, 1560, 1590, 1690, 1850, 1860, 1890, 1890CCS, 1895 and 1990 (They replace John Deere part numbers N283804 and N214190).
For more information, together with pricing – please click the link below.

Product Guide