Needham 2 ¾" x 16" Narrow Gauge Wheel Assemblies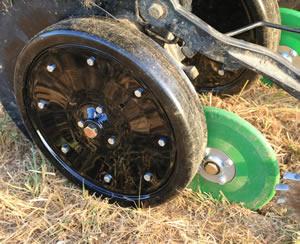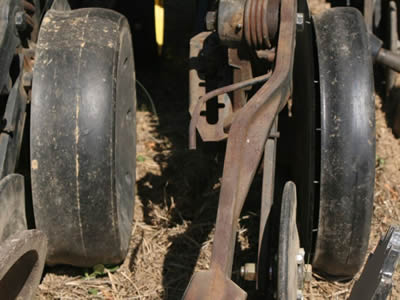 Standard 4 ½" gauge wheel on the left and a Needham 2 ¾" Narrow Gauge Wheel on the right.
Needham 2 ¾" x 16" Narrow Gauge Wheel Assemblies are shipped fully assembled, ready to bolt on the drill or air-seeder. They feature TWO steel wheel halves (not one plastic and one steel like some of our competition). This is important because we have found that TWO steel wheel halves significantly outlast the steel/plastic combinations, especially when operating in hard soils or heavy residue when a lot of ballast is required to press the openers consistently into the soil. Within these conditions, it often increases the down-force on the gauge wheel assembly and this results in increased wear within plastic bearing sockets (within the wheel half of the narrow gauge wheel with the plastic wheel half). Our narrow gauge wheels also come standard with a high quality 5203 double-row ball bearing, for long service life, this is the same bearing that most manufacturers have used within gauge wheel assemblies for many years with good success.
From late 2012, all our narrow gauge wheel assemblies will be shipped with NEW URETHANE TIRES. Following field testing on high acre seeding equipment across the central and northern plains over the past year, we have found that urethane tires significantly outlast our own previous rubber tires and the rubber tires installed on competitive narrow gauge wheel assemblies. The increases in service life provided by urethane tires (compared to rubber narrow gauge wheel tires) are most visible when no-tilling into short soybean stubble. Within these tough conditions, the service life of the urethane tires is estimated to be at least 3 times longer than currently available rubber narrow gauge wheel tires.
There are three major benefits of Needham Narrow Gauge Wheels, these include:
Less sidewall compaction The Needham Narrow Gauge Wheels feature a 3/8" reduced inner diameter next to the disc. This tire profile provides excellent depth control in no-till conditions but also provides less compression next to the seed slot. This principal helps reduce sidewall compaction and leaves the soil next to the seed slot loose and easier to close, especially with a Needham 20 point crumbler wheel.
Improved Following of the Soil Surface and Less Unit Bounce When no-tilling wheat and other crops into heavy residue crops such as corn, depth control can be better maintained when using a Narrow Gauge Wheel. (Narrow Gauge Wheels are around half the width of a standard Gauge Wheel, so there are less opportunities for the Gauge Wheel to climb over corn crowns, corn stalks etc.)
Increased Snow Catch In drier Northern regions, farmers rely on catching as much snow as possible to provide moisture for the growing season. Narrow Gauge Wheels are 2 ½" wide and leave around 50% more residue standing up to catch more snow (compared to a standard 4 ½" wide Gauge Wheel).
Note: Narrow Gauge Wheels should be avoided in loose conventional soils (not that a no-till drill performs well in these conditions anyway) but depth control will be less desirable with a narrower wheel compared to a 4 ½" wide Gauge Wheel.
We had some of our new urethane tires out for testing during 2012. These were strategically positioned on high acreage seeding equipment and especially within high wear environments, such as growers who no-till into short soybean stubble.
One narrow gauge wheel equipped with a urethane tire was sent to Joe Swanson in Windom, Kansas. Below are his texted comments regarding these new gauge wheels fitted with our new urethane tires:
"Your new narrow gauge wheel tires are wearing way better than the others. There is almost 5000 acres on these tires – Very impressive !!!"
1475 acres were bean stubble !
(Photo from Joe Swanson)
How Narrow Gauge Wheels Improve Depth Control.
Narrow gauge wheels are very beneficial within fields with undulating soil surfaces, for example when seeding into previous equipment wheel-tracks. Wheel-tracks and other depressions in the soil surface (which run parallel to the seeding pass) frequently interfere with depth control and final seed placement. These problems are illustrated within the image to the left. Notice how the standard 4 1/2" gauge wheel (1) rides on the shoulder of a surface depression (B) which causes the disc to lose contact with the soil completely. The 2 3/4" narrow gauge wheel (2) by comparison, is better able to drop down into the same depression (B) and help the disc achieve a more consistent seeding depth to improve seed placement consistency.
For more information, together with pricing – please click the link below.

Product Guide